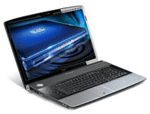 Acer Aspire 8920G T9300 Laptop
The stunning NEW Acer Aspire 8920G T9300 laptop Blu Ray with new Gemstone Blue design comes with a great range of handy features.

Price-Blaster has selected the Acer Aspire 8920G T9300 Laptop as a hot pick and we hope you will find the cheapest trusted supplier in the list below.

Acer Aspire 8920G T9300, Core 2 Duo T9300 2.5GHz, 4GB Memory, 500GB Hard Drive Capacity, 18.4" Display, Blu Ray Optical Drive, Vista Home Premium, Laptop, Notebook, colour: Gemstone Blue.

Please click the prices or supplier to check availability and be sure to get the best deal. Compare Acer 8920G T9300 prices here:

Acer Aspire 8920G T9300 Laptop - 2.5GH - 4GB


---
Acer Aspire 8920G Range:
Acer Aspire 8920G T9300 Laptop Features
Processor: Intel Core 2 DuoT9300 2.4GHz
Memory: 4GB (2x2GB)GB
HD Capacity: 500GB (2x250GB)
Display: 18.4" WUXGA CrystalBrite Display
Graphics Card: NVIDIA GeForce 9500M GS 512MB
Operating System: Windows Vista Home Premium
Optical Drive: Blu Ray
Networking: Ethernet Gigabit LAN, Wireless N WLAN, Bluetooth 2.0
Sound: Dolby-certified 5.1 surround sound system (5 speakers + subwoofer)
Features: HDMI, CrystalEye Camera, Finger Print Recognition, 6-in-1 Card Reader, Digital DVB-T TV Tuner + Remote

The stunning Acer Aspire 8920G T9300 with new Gemstone Blue design flashes an air of refined style with these eye-catching features:

The starlit backlight shines below the floating Acer logo, the focal point of the iridescent midnight sapphire sub-layer, which sparkles with varying gradations of black and blue when viewed from different angles.

The Enlightener power button flashes to life with a sharp-looking line of bright blue light when the notebook is turned on.

The intricate texture of the NeoWeave palm rest signifies excellent taste and exacting technical prowess, while providing a comfortable area for placing your hands.

A shining vestige of the original Gemstone design, the DiamondBlack eKey flaunts the classic appeal of precious stones and forms the gateway to the world of Empowering Technology.